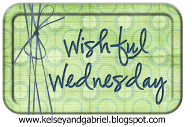 Ah, Wednesday. You must be my most creative day of the week (I assume this is because it's the weekday I get to sleep in the latest!).
This week for
Wishful Wednesday
Kelsey over at
The Seatle Smiths
is asking us which Grammy's performance we wish could have been us. A tricky one yet again for me, seeing as I haven't watched the Grammy's! Being abroad makes you so reliant on YouTube and the internets to watch all the awesome (read: gratuitous) outpourings of pop culture in our dear, dear country.
So, needless to say, I haven't watched all the performances. I wasn't wowed by many I watched the singers I was interested in seeing perform. Taylor kinda let me down, her voice was shaky and pitchy and I am not that big of a fan of her new song (Oh Taylor, it was bound to happen wasn't it?). Lady Antebellum was classy as usual, and I love them, but it wasn't something I'll remember down the road (plus, did you see that curtain hit her? She never even missed a note!). So I've picked one that I assume many will probably pick just because of simply how AMAZING it really was.
You're probably asking yourself: "Seriously Courtney, get on with it."
Well, THIS one of course!
I'm gonna say, with a performance like that I really, really think she was robbed of Album of the Year. Taylor is awesome and all that, and I really adore her. But for me, Album of the Year belongs to not the person who sold the most records or the most bedsheets with their face on them. For me, Album of the year belongs to the person who challenges the music scene. Someone who is innovative with their musical talent. Someone who makes other artists reevaluate their own music and allows the whole world of music to take a step forward. Gaga, in all her craziness and fashion statements, does just that. She's talented, innovative, and puts one one hell of a show.
This performance was amazing. It was bright and flashy. It had a story. It had dancing. It had pop singing. It had sit down and play the piano-ing. This is a performance I'll think back on a bunch. (okay, yes I wish I was Gaga. I wish I could get away with wearing those clothes. I wish I could walk - let alone dance - in those shoes and not break and ankle. Yes, the world is so much sweeter with Gaga in the world.)
Plus: SIR ELTON JOHN?!?! Who would not want to be playing on a stage with him! Be still my heart! (He's coming to Budapest! Need to find tickets!)
Oh, and before you say anything about her singing, have you heard her before she was Gaga? Her voice is BEAUTIFUL. Check it out: