So, a few weeks ago I entered to participate in the Fall Favorites Swap!
I was so lucky to be paired with Janna, from: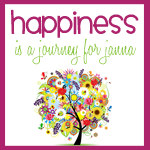 And let me tell you,
she SPOILED me rotten!
In my AMAZING package I got:
- ADORABLE slipper socks (they're mary-jane style! SO CUTE - I've been wearing them non-stop!)
- A 'Life is Good' Tshirt - in a beautiful green-blue (which I LOVE)
- Burts Bees pomegranate lip balm (MY FAVORITE!)
- Pumpkin hand lotion (smells AMAZING)
- A beautiful shade of nail polish!
- and a sweet SWEET card!
I LOVE Swaps,
and it's been SO fun to get to know Janna!
Go check out her blog, okay?!