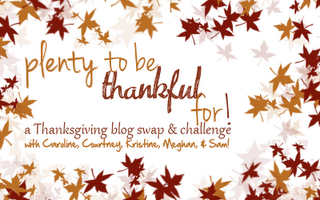 First of all, thank you all SO MUCH for joining us with this swap and challenge!
It was seriously an amazing two weeks - and I loved reading all your posts!
This blog swap was so SO much fun.
She's from Virginia and has the CUTEST blog,
I am so glad to have 'met' her through this swap,
I love making new blog friends,
and she's seriously amazing,
go read her blog now!
So, as for the AMAZING package she sent me?
Have a look for yourself:
Isn't it amazing?
The sweetest card ever!
A travel coffee mug, coffee, reese's minis,
three mini notebooks, a 'C' ornament,
and some BEAUTIFUL earrings.
This girl spoiled me.
Alex?
Seriously - THANK YOU SO MUCH!
I hope you enjoyed your package as much as I'm enjoying mine!