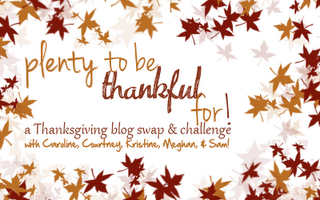 Oh my word, you guys? The last two days have been SO much fun! Let's keep the party rolling, what do you say?
Day 3
I'm THANKful for my hometown!
I live in a small town in New Hampshire.
About 20 mins from the beach,
(I LOVE the beach)
an hour or two from the White Mountains,
(I LOVE to climb things)
and an hourish from Boston.
(I LOVE Boston)
It's the perfect location,
if you ask me :)
I like the small-town feel of this place,
I love that there's country,
and wildlife randomly in my back yard.
I love that I have a back yard.
I'm SO THANKful to have grown up here!
How about you?
What do you love about where you grew up?