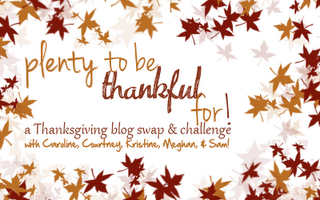 Okay you guys! Seriously! I am loving hosting this Blog Challenge with Sam, Meghan, Kristine, and Caroline.... I am having SO much fun reading all your blog posts and reading all your sweet comments! Which is why today's topic is SO simple for me:
Day 4
I'm THANKful for the Blogoverse!
Why?
YOU ALL ROCK!
No, really:
- you guys always there (here or on Twitter) with a quick answer to a random question
- everyone seems to rally behind each other in both tough and joyous times
- it's a great place to meet new friends
- there's always some interesting or funny stories to make a bad day good
- recipes!
- and so, so, so much more!
So, again:
YOU ALL ROCK!
I'm so THANKful for this community :)