Welcome back for another week of the
Plenty To Be THANKful For Blog Challenge
Last week was so much fun - I cannot wait for this week!
I can just tell today is going to be a delicious day in the Blogoverse!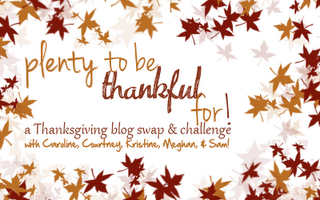 Today's topic is:
I'm THANKful for my favorite Thanksgiving Recipe!
I don't have one favorite recipe for the day itself.
Nothing quite tops my mom's stuffing or sweet potatoes.
So, what I have for you is a delicious, delicious cookie recipe.
Perfect to snack on between slices of Thanksgiving pie :)
Ingredients
Dry
3/4 cup flour
1/2 cup cocoa powder
1/2 tsp baking soda
1/4 tsp salt
1 to 2 cups chocolate chips*
Wet
1/2 cup softened butter (1 stick)
1 egg
1/2 cup brown sugar
1/4 cup white sugar
1 tsp vanilla extract (i usually use 1-2 tsp though, I love vanilla)
* experiment here - I've used: nestles swirl chips - amazing; half white chocolate half regular chocolate chips - amazing; peanut butter chips - amazing. Use what you want here, it will taste good.
Directions
heat oven to 375 degrees
grease cookie trays
1. whisk/stir together dry ingredients (except for the chips!) in a medium sized bowl
2. in another, larger bowl stir (or use a mixer) together butter & sugar until it's creamy & yellowish. then mix in the egg and vanilla.
3. slowly stir in the dry ingredients into the bowl of the wet ingredients
4. DO NOT OVER MIX
5. stir in the chocolate chips*
6. scoop equal sized balls onto the cookie tray and space them apart
7. cook for about 8-11 minutes depending on size of the cookies
yields: 1-2 dozen cookies (depending on size of cookie)
notes:
- for divine cookies, let the dough (once you've mixed in the chocolate chips) sit overnight. I know, it sucks, a lot and requires so much patience. But it's so worth it. Trust me.
- these freeze very well. Double or triple the batch and then freeze. To freeze: place cookies in a single layer on a cookie sheet and then freeze over night. In the morning move them into an air-tight freezer bag. They last about 4 months, on average, in the freezer. To eat after frozen: let thaw about a half hour or heat oven to 375 degrees and cook about 10 minutes.
So, what's your favorite recipe for this time of year?
Tuesday November 22nd –
I'm THANKful For Thanksgiving Traditions!
Wednesday, November 23rd –
I'm THANKful For The Special People In My Life!
Thursday, November 24th – I'm THANKful For Thanksgiving! (Post a picture of your table... if you have time!)
Friday, November 25th – I'm THANKful for Black Friday & Leftovers!
Monday, November 28th – BLOG SWAP REVEAL